Apple & Cinnamon granola
Regular price

$12.00

Sale price

$12.00
Indulge in Just One Bite and Fall in Love.
Our new granola is a delicious fusion of freeze-dried apple chunks and Saigon cinnamon powder. With a light, crispy texture and the familiar flavor of freshly-baked apple pie, it's the perfect snack for any time of day. Indulge yourself in this sweet treat on-the-go or as a satisfying snack. Experience the warmth and spice of Saigon cinnamon and the satisfying crunch of apples in our irresistible apple pie-inspired granola.

Ingredients

Organic oats, sunflower seeds, sliced almonds, pumpkin seeds, cranberries, currants, freeze-dried apple cubes, apple powder, apple puree, maple syrup, extra virgin olive oil, brown sugar, and sea salt.

Contains: Nuts.

Processed in a facility that handles Soy, Wheat, Tree nuts, Sesame seeds, Barley, and Rye.

Store in a cool dry place.

280g / 9.9oz
Shipping

All orders are processed within 2 to 5 business days (excluding weekends and holidays) after receiving your order confirmation email. You will receive another notification once your order has shipped. 

More information please visit our
Share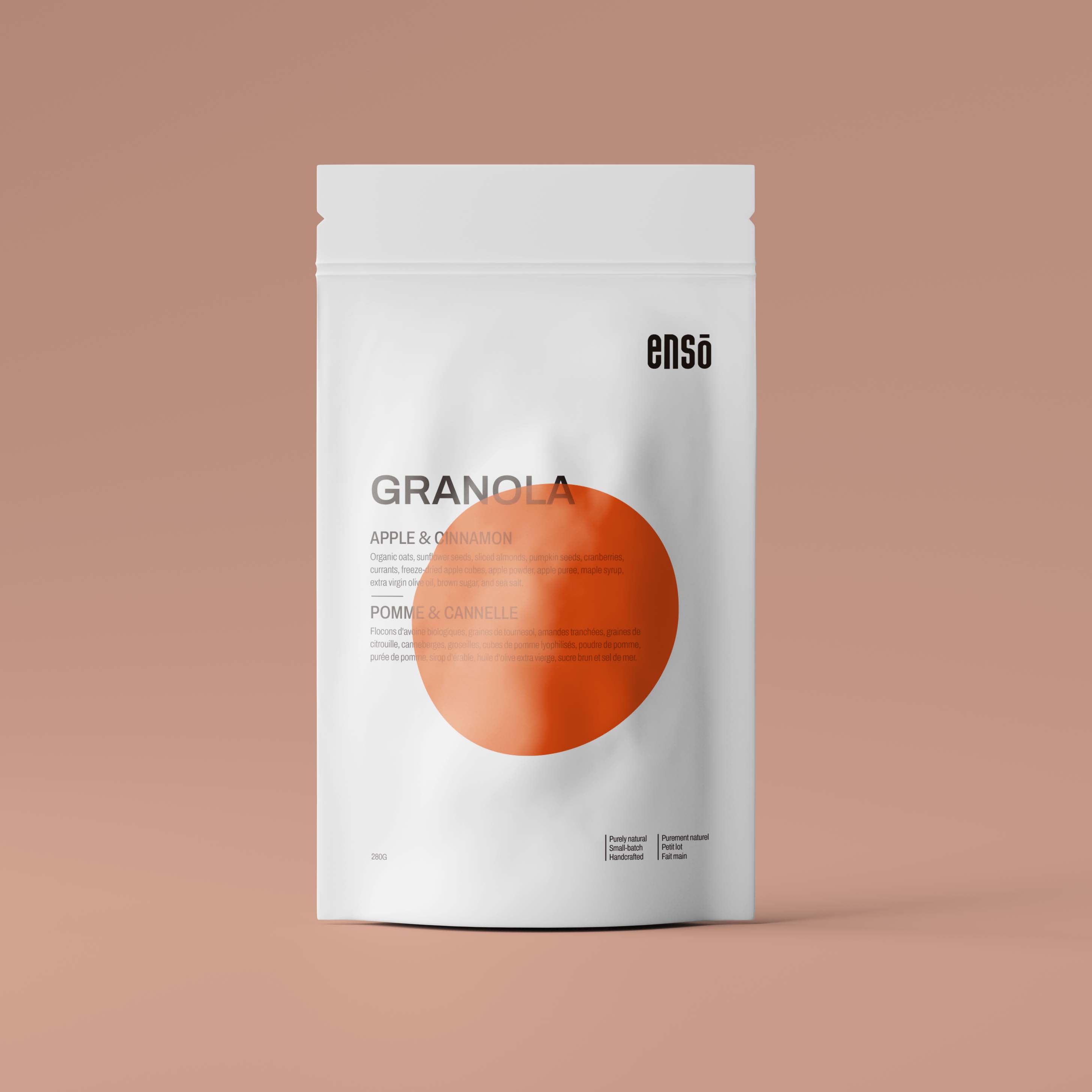 See what everyone is saying
Why our Granola so good!
Wholesome recipe, Chef made.

Our granola products boast a fine dining level of excellence, thanks to the invaluable expertise of co-founder Ethan, who honed his craft at Canoe, one of Canada's top-tier restaurants.

Organic large flake rolled oats

Savor our Organic Large Flake Rolled Oats, crafted with care. No instant oats here. Experience the superior taste and texture of our wholesome grains. Perfect for snacking or breakfast, our oats promise exceptional quality that surpasses the rest.

Slow bake to perfection

From the first bite, you'll know that our products are truly the perfect choice for an easy, on-the-go breakfast or snack. Slow-baked to perfection to ensure a light and airy texture.
Explore our super ingridients
This delicious, crunchy granola is made from the finest, all-natural ingredients with no additives. A breakfast favorite for those who appreciate quality.
Freezer dried apple

Freeze-dried apple cubes have a delightful crunchy texture and perfectly capture the sweet and tangy flavor of the apple itself.

Saigon cinnamon powder

Saigon cinnamon, a variety of cassia cinnamon known for its stronger flavor, is added to the product to impart a unique and distinctive aroma.

Freezer dried apple powder

Freeze-dried apple powder is added to the product to enhance the apple flavor.
Extra virgin olive oil

Extra virgin olive oil is a healthy oil made from the first cold pressing of olives. It's rich in antioxidants and healthy fats, and adds a distinct flavor to dishes.

Fleur de sel

Fleur de sel is a delicate sea salt hand-harvested from salt ponds. It contains essential minerals and adds a unique flavor and texture to any dish. Enjoy its exquisite taste and health benefits in your cooking.

Grade B Maple syrup

Grade B maple syrup: a nutritious, tasty alternative to sugar. Rich in antioxidants, minerals and energy, with anti-inflammatory compounds.
FAQs
Are all your products Plant-based?

We absolutely adore plants! Every one of our granolas is crafted using vegan, plant-based ingredients. Our Cacao Nibs Granola is made with cacao powder and cacao nibs, and is entirely free from any dairy products.So when we say plant-based, we truly mean it!
IS ENSO avalable in a store near me?

ENSO products are currently available for purchase online at ensoeats.com. We are also working to establish partnerships with brick-and-mortar retailers, and will update our list of stockists as soon as possible.
Is ENSO Granola Gluten Free?

While it is true that oats contain a small amount of gluten, unfortunately, we do not currently use gluten-free rolled oats in our products. However, if there is a demand for it in the market, we will consider introducing a gluten-free version.
How long does shipping take?

Shipping typically take 5-10 business days depending on your location. This allows a few days for us to prepare your order and accounts for any possible shipping delays.
Why does it cost so much?

Our treats are made from the finest quality ingredients available. We pride ourselves on using premium nuts, organic whole grains, natural sweeteners, and extra virgin olive oil to create our delicious granolas that are freshly baked by hand.

Although these ingredients may come at a higher cost, our commitment to using only natural and nutritious ingredients is unwavering. We want you to feel great about eating our treats every day.
The best granola our there!
I've tried a lot of granola and this one is by far the best! Not only is it low sugar, but it's got so many delicious flavours and dried fruit! I've already finished the first bag and can't wait to try the other flavours!
Best Granola by Far
This granola does not contain any seed oils or excessive amounts of sweetener/sugar. It was very filling and you can't taste the high quality ingredients. I will definitely be a customer for a long time. Would like to see them introduce limited time flavours.
Delicious(From Amazon store)
ENSO GRANOLA - Apple & Cinnamon granola is made from organic ingredients. It tastes fresh and delicious out of the bag. There are so many different ways to eat it. I add it in warm milk and it is wonderful comfort food. The ingredients are healthy and low in sugar. The price is reasonable as well.
Caused a family fight and left us crying..... for more!(From Amazon store)
Seriously! This stuff is unbelievably good. My wife's mother was over visiting and this arrives so we quickly opened one up to try. We graciously decided to share a bag with her mom before she pulled an all-you-can-eat buffet trick and stuff it in her purse. We were all immediately hooked on this granola. The flavour and texture is perfection in every bite, strong apple cinnamon flavour. The dried apple bites are diced up incredibly small and everything works together perfectly balanced. Putting this on top of a scoop of ice cream is our dessert tonight and it is like an apple pie with ice cream in every bite and way less guilt. I tried to order more to appease the family members in our house and at my wife's mother's only to find out it's currently unavailable. My wife gets a phone call from her motherbshprtly after she left and she was demanding to find out where we got this because her brother was devouring the bag she gave her mother. Insisting that her brother needs to know so he can purchase more since he can't learn to share. Well, didn't this turn sour when she informed her that I had already checked and it wasn't available.
My advice is to absolutely try this (you'll be hooked) but make sure you order plenty!!!!
This stuff tastes fantastic.(From Amazon store)
Note that it isn't the easiest granola to "snack on" directly as it doesn't clump together at all, if you want it chunky you'll need to do a little extra legwork yourself to form it into chunks/bars with a binder of your choice... but man does this stuff taste great even all on it's own and that is coming from someone who mostly tolerates granolas as a healthy snack more than loves them. The ingredients list is full of good stuff, and they are actually pretty generous with the fruit - there are quite a lot of apple bits in this, more than I expected. The apple pieces are kind of interesting, they're teeny tiny little cubes, so the apple flavour is well mixed in and it's not just a whole bunch of oats with a pieces of apple mixed in. Definitely worth checking out.