Apple & Cinnamon granola
Regular price

Sale price

$10.00
Indulge in Just One Bite and Fall in Love.
Our new granola is a delicious fusion of freeze-dried apple chunks and Saigon cinnamon powder. With a light, crispy texture and the familiar flavor of freshly-baked apple pie, it's the perfect snack for any time of day. Indulge yourself in this sweet treat on-the-go or as a satisfying snack. Experience the warmth and spice of Saigon cinnamon and the satisfying crunch of apples in our irresistible apple pie-inspired granola.

Ingredients

Organic oats, sunflower seeds, sliced almonds, pumpkin seeds, cranberries, currants, freeze-dried apple cubes, apple powder, apple puree, maple syrup, extra virgin olive oil, brown sugar, and sea salt.

Contains: Nuts.

Processed in a facility that handles Soy, Wheat, Tree nuts, Sesame seeds, Barley, and Rye.

Store in a cool dry place.

280g / 9.9oz
Shipping

All orders are processed within 2 to 5 business days (excluding weekends and holidays) after receiving your order confirmation email. You will receive another notification once your order has shipped. 

More information please visit our
Share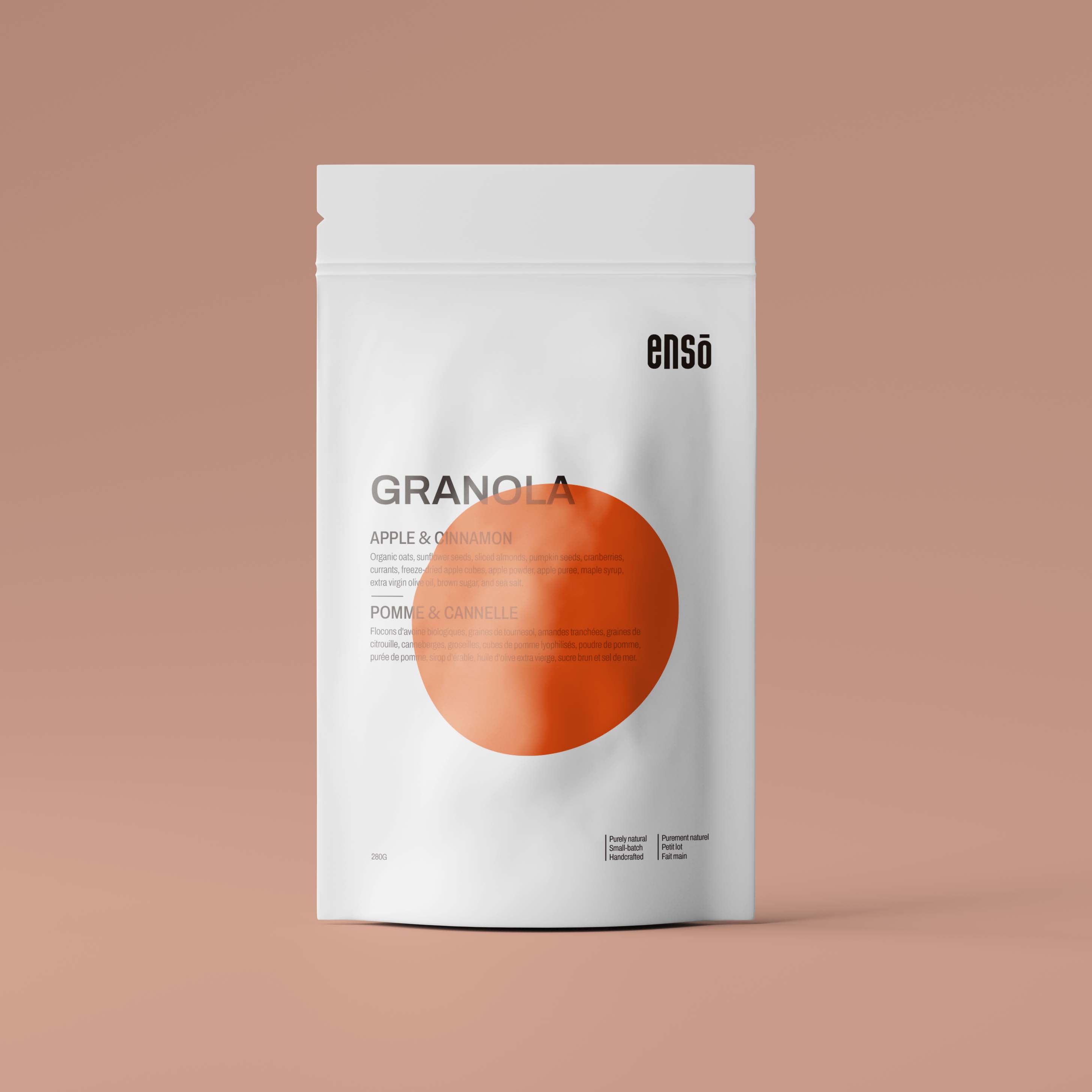 GRANOLA GLOW: WATCH THE LOVE
THE SECRET TO OUR DISTINCTIVE GRANOLA
HANDCRAFTED DELIGHT

Carefully crafted from pure, wholesome ingredients—no additives, no over-processing. Meticulously made in small batches by hand. You won't believe how deliciously healthy can taste!

OUR UNIQUE SYRUP BLEND

No secrets, just pure goodness. Our syrup blends olive oil, maple syrup, brown sugar, and sea salt for a simple yet profound taste. Because sometimes, the best things are beautifully uncomplicated.

LOW & SLOW-BAKED

Good food needs no tricks, only patience. Through slow baking and constant flipping, our Granola achieves the perfect golden brown—just like creating homemade treats with care for your dearest friend.
PURE GOODNESS: OUR INGREDIENTS JOURNEY
FREEZER DRIED APPLE CUBES

True apple flavor – a 'wow' moment during my first taste. Apple fiber stabilizes blood sugar and, as a low-calorie, high-fiber fruit, helps with fullness and weight control. It also supports digestive health, alleviating constipation.

SAIGON CINNAMON POWDER

Saigon cinnamon delights with its smooth, sweet taste and unique aroma. Beyond flavor, it offers antioxidants, anti-inflammatory benefits, aids in lowering blood sugar, and has antibacterial properties. Embrace Saigon cinnamon for a delightful and healthful touch.

FREEZER DRIED APPLE POWDER

For a more pronounced apple flavor. 🍎✨
EXTRA VIRGIN OLIVE OIL

Liquid gold of nutrition, rich in heart-healthy monounsaturated fats for cardiovascular support. With antioxidants combating oxidative stress, it promotes skin health and bone strength through vitamins E and K. Embrace the goodness of this liquid gold for a flavorful and nourishing experience.

FLEUR DE SEL

The exquisite sea salt, is a simple yet potent source of essential minerals. Harvested with care, it retains trace elements like magnesium and potassium. While it's not a significant source of nutrients, it adds a delightful touch to your dishes without the additives found in refined table salt.

MAPLE SYRUP

Maple syrup is more than just sweet – it's sweeter than sugar and rich in minerals. Its anti-inflammatory and antioxidant properties offer health benefits. Embrace the goodness of maple syrup, a natural touch beyond sweetness.

🍁 Made in Canada!💛
FAQs
Are all your products Plant-based?

Yes, we are plant-based and completely vegan. But trust me, you'll find our granola to be incredibly flavorful, thanks to our unique syrup blend and abundant nut ingredients. Vegetarian food has never tasted this good!
IS ENSO avalable in a store near me?

We are excited to explore additional opportunities to expand into physical stores. You can easily find our current sales partners by visiting our store locator. As a new company, our sales locations may be limited at the moment. However, if there are specific stores where you would like to see our products, please feel free to reach out to us via email at info@ensoeats.com. We value your input and will make every effort to meet your needs and provide our products.
Is ENSO Granola Gluten Free?

Our granola ingredients include oats, which are naturally gluten-free. However, we do not use oats that are 100% certified gluten-free in our products. This means that there is a possibility that the oats from the supplier may have come into contact with other grains containing gluten, such as barley or wheat, resulting in very small trace amounts of gluten in our final product.

For individuals with severe Celiac Disease (Severe Gluten Sensitivity), we suggest avoiding the consumption of our products as they may not be safe for you. We apologize for any inconvenience caused.

If there is a strong demand for products that are completely free of gluten in the future, we will gladly work on developing a product that meets those special requirements. Thank you for your understanding and support.
How long does shipping take?

Order Processing Time:

We typically process your order within 1-2 business days.

Shipping Times:

If you're in Ontario, Canada (ON area), you can expect to receive your product within 1-2 business days.
If you're located outside of Ontario, it may take 3-5 business days for your order to arrive.
For customers in the United States, the estimated delivery time is 4-6 business days or longer.

Communication on Delays:

In the rare event of any delays, we will promptly provide a clear explanation.

Thank you for your understanding and for choosing our products.
Why does it cost so much?

Being a small business, we face challenges with our scale and purchasing capacity, making it tough to secure better prices like bigger companies. Around 30%-35% of our total costs come from ingredients, and our packaging currently costs $0.95. We're committed to using top-notch raw materials like pistachios, nuts, extra virgin olive oil, and maple syrup, which do add to our costs. Our unique low-temperature, long-time baking process also means higher production and labor costs, resulting in a slightly higher selling price compared to other products.

However, we're always looking for ways to bring down costs in the future so we can offer our granola at a more affordable price.
The best granola our there!
I've tried a lot of granola and this one is by far the best! Not only is it low sugar, but it's got so many delicious flavours and dried fruit! I've already finished the first bag and can't wait to try the other flavours!
Best Granola by Far
This granola does not contain any seed oils or excessive amounts of sweetener/sugar. It was very filling and you can't taste the high quality ingredients. I will definitely be a customer for a long time. Would like to see them introduce limited time flavours.
Best granola ever!
This apple cinnamon granola tastes like an apple pie in granola form, and I especially like the freeze dried apples and loads of cinnamon! I personally have it with milk, and it leaves the milk tasting like cinnamon as well, and the granola is sweet enough that you can't tell how nutritious it really is!
New favourite granola!
I first came across Enso Granola at a local market and I've been hooked ever since. I've been on the hunt for a healthy and tasty granola and this checks all of the boxes. The cocoa and hazelnut is my favourite, but you can't go wrong with any of the flavours!
Delicious(From Amazon store)
ENSO GRANOLA - Apple & Cinnamon granola is made from organic ingredients. It tastes fresh and delicious out of the bag. There are so many different ways to eat it. I add it in warm milk and it is wonderful comfort food. The ingredients are healthy and low in sugar. The price is reasonable as well.